Summer Appeal 2020
Dear Friends,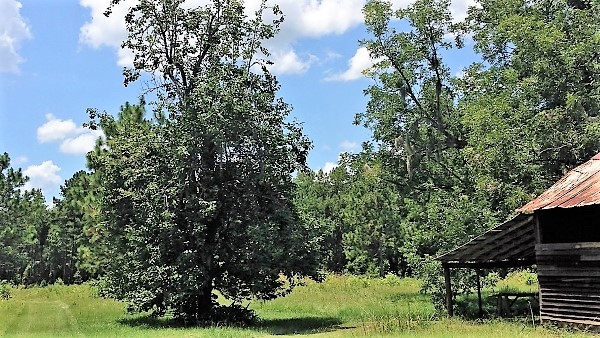 It is another warm July morning at Birdsong, with promises of a hot day to come. I am at the bench overlooking the House Pasture enjoying the flute-like calls of two nearby Northern Bobwhites. The sky is deep blue; the pear tree is laden with golden pears and surrounded by fallen fruit. Our deer, raccoons and coyotes clearly appreciate this, as almost every pear has a bite taken out of it. There has been a lot of rain lately, and the field and surrounding woods are lush and green. It all looks and feels like a normal July day, and for our wildlife, it is - they continue to go about their lives as usual.
For all of us, things are anything but normal. Life changed dramatically in March with the arrival of Covid-19, and Birdsong's well-intentioned plans for this year's activities and events evaporated. We had to cancel the annual Old-Timey Plant Sale at the last minute. Plant Sale Chair June White and our 100 plant sale volunteers and plant donors had been cheerfully working away for a whole year getting ready for our 14th sale. Stopping on a dime and disassembling all that work was jarring, counter to months of momentum, and very disheartening. We had to cancel all our scheduled programs, school field trips and volunteer activities. We had been planning a summer music event, another Volunteer Celebration and a stargazing night, so those were called off. With the advent of the lockdown, we closed the Center completely until further notice.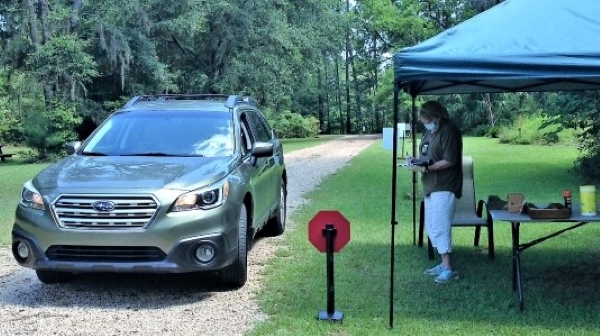 Financially, we took a big hit from the loss of the Plant Sale. We are very grateful to our Preview Party donors and corporate sponsors who insisted we keep their ticket fees and corporate support as gifts. We thank our intrepid volunteers, who helped set up a collection of already-received donated plants enabling us to offer private plant sales for as long as we could before closure. This helped us pay for the Plant Sale expenses already incurred. We also applied for and received a Small Business Loan through the Federal Paycheck Protection Program. We are very thankful for this 12-week loan; it has enabled us to keep our two full-time and three part-time employees on payroll up until now. We appear to meet the criteria for loan forgiveness and will apply for it in the next few weeks. I'm not sure what we would have done without it. Meanwhile, we continue to work optimistically on long-term funding for our conservation easement through the GOSA (Georgia Outdoor Stewardship Act) grant, as well as seeking additional grant support and donations. We continue to manage the land as best we can without volunteer assistance.
When the Georgia lockdown was lifted, we created a set of Covid safety protocols and a new registration system and re-opened the trails on weekends starting June 13. Now our members and visitors can come out and enjoy some fresh air and spaciousness, breathe in the healing air of the woods, listen to the birds, have some family or quiet time outdoors and allow nature to provide some normalcy and relief. We are very glad that Birdsong can offer these beneficial opportunities under these trying circumstances. It is nice to see visitors again – we have really missed you!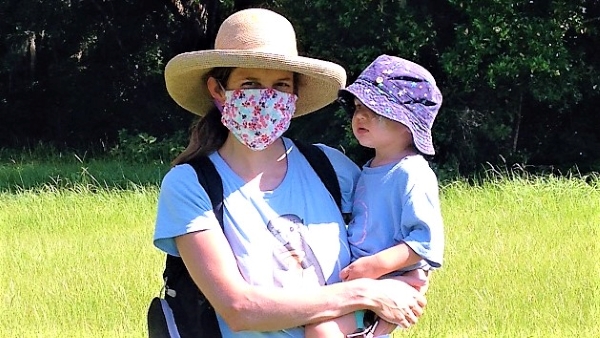 So, here we are, months later, in what appears to be the middle of the Covid-19 pandemic, with no ability to predict when or if what we remember as "normal" will return. No gatherings or gopher tortoise programs or trail rides this summer, no Taking A Child Outside. No Bird Window. No idea when things will really be safe again; no way to plan for the fall. With the loss of the Plant Sale and any significant summer income, we are writing to ask if you can make a donation to help us navigate the uncertainty and challenges of this pandemic.
We acknowledge that there are many important causes deserving of support; there are people in great difficulty everywhere who need help. If the role Birdsong can play right now is important to you – making a safe, beautiful preserve available where immersion in nature can benefit our health, ease our stress and worry, give us a sense of comfort and lift our spirits - we would be deeply appreciative of your support. We can assure you that your gift will make a difference: it will help us keep staff on payroll now that the loan is almost up, keep our grantseeking and fundraising going, keep the trails maintained and open to the public, and help us get ready to respond when life becomes more normal, hopefully in the fall.

Our goal is to raise $50,000 this summer to help us recover from our spring and summer losses and move into recovery mode in the second half of the year. Thanks to generous gifts from five kind members and a pledge from every person on our Board of Directors, we have already received $6,300 or 13% of our goal. (One of these gifts was a donor's Stimulus Check.)
We are thinking of you and sincerely wish that you and your family remain safe and healthy. We hope you have found uplifting ways to cope with these new circumstances and are able to find happiness each day with your loved ones. Birdsong is here for you when you need to get away and find some relief in the beauty and wildness of nature. We look forward to happier days ahead and a better world when this is finally over.
Sincerely, Kathleen D. Brady Executive Director
P.S. We want to thank and acknowledge our members who have kindly continued to renew their memberships even though we cannot provide all our normal services. It has been a great help. Birdsong is a 501(c)3 corporation, so your gift is tax-deductible, as allowed by law. Online donations can be made via our website. Please see Summer Appeal 2020 Donations.