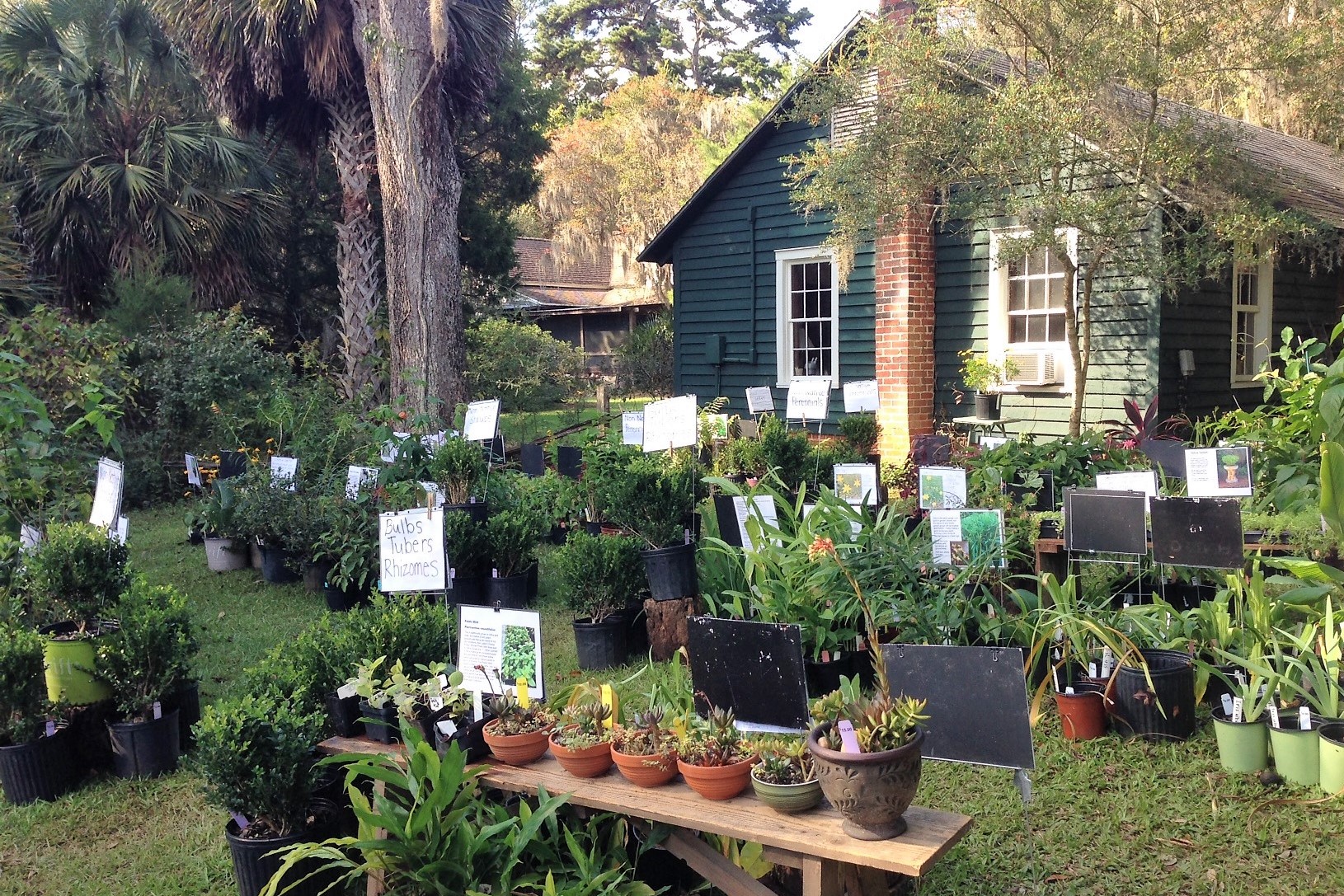 Old-Timey Plants

Two Fall Plant Sales in 2022: Oct. 15 and Nov. 5, 9AM-1PM

Everyone loves Spring, but serious gardeners know that the fall of the year is the best time to plant trees, shrubs, and many perennials. We will have plenty of unusual, rare, interesting, and reliable plants for sale, including Wild Azaleas full of flower buds. Put these Saturdays on your calendar!!

Several members of the Old-Timey Plant Sale Committee have written helpful articles about gardening and suggested plants for southern landscapes that you may find at the Old-Timey Plant Sale. An article by Plant Sale Chair June White is below and an index with links to all of our Old-Timey Plant articles appears at the bottom of this page.

Bulbs, Tubers, Rhizomes
June White - Plant Sale Chair

A big section of Birdsong Nature Center's annual Old-Timey Plant Sale is set up for the sale of plants that grow from bulbs, tubers, and rhizomes. We are happy to receive hundreds of these reliable, rewarding, and easy-to-grow plants from donors every year. They are easy for us to sell, and fun for gardeners to plant. We can almost guarantee success and delight from these plants.

An all-time favorite is the "snowflake" or Leucojum. The green daffodil-like leaves will start emerging from the big fat bulbs in mid winter, and in January and early February they will send up graceful stems of pendant white flowers, each with a spot of green. They will die completely back by late spring, leaving the garden available for summer flowers. (However, as with all bulbs, you must be careful not to unwittingly sink a shovel blade into them when digging after the tops have disappeared.) Snowflakes will grow in ordinary garden soil, but they also thrive in boggy areas.

Another very showy plant is the red hurricane lily, Lycoris radiata. Brilliant red spidery flowers appear seemingly out of nowhere in the early fall. The leaves come after the flowers have finished, and make a nice clump of green in the winter garden. An even more gorgeous variety is the golden hurricane lily, Lycoris aurea. Its yellow flowers are bigger than the red ones, on taller, thicker stems. It is not as common as the red hurricane lily, but we are lucky to have a few gardeners who donate this highly prized plant to our sale.

We sometimes lament that we cannot grow tulips in the Deep South, especially this time of year when the tulip catalogs land in our mailboxes with those gorgeous photographs. However, think how people up north must feel when they learn that we can plant amaryllis bulbs in our gardens and in just a few years have huge clump of these magnificent flowers. The plant sale has several donors of amaryllis. One got her start a few years ago from a couple of bulbs she bought at a yard sale in Andalusia, Alabama and now has plenty to share. These are a lovely peachy-orange color. Another donor has the common red and white striped ones. These do not appear at their best as so often seen, planted in a stark row in the glaring sun against a red brick house foundation, but they are lovely in our donor's garden where she has them planted in loose drifts under live oak trees. We might have one or two very unusual amaryllises from a donor whose friend in Vermont sent her his bulb after its Christmas indoor display was over. She planted the spent bulb in South Georgia, and in a few years it had multiplied and is now a nice clump. It is an odd bronze color with stripes of green.

And oh, the gingers! Birdsong is now receiving frequent phone calls from people cleaning up and organizing their gardens. "Can you sell ginger lilies?" they ask. Of course we can! Butterfly or white ginger is one of the most rewarding plants you can grow. There is nothing like the fragrance of this late summer bloomer. Once my sister and I were asked to put flowers on the altar in the Episcopal church and we took bunches of ginger lilies. A man stopped us in the vestibule. "You are putting those in the church?" he asked in amazement -- "White ginger belongs in the bedroom!" We also will have for sale many other types of ginger, some good for cooking. (See article on gingers by Kris Dougherty on the Birdsong Website.)

Rain lilies are not much to look at as individual little flowers. However, they spread quickly from seed and as the bulbs multiply, can make quite a show when they come into bloom all at once after a rain shower. We are lucky to have some heirloom pink rain lilies donated by a Birdsong friend whose family grew them for years at an old Mississippi homestead.

Iris albicans is a very reliable bloomer in our area, with big white flowers in early spring. A clump of this "cemetery white" iris grows in the Birdsong office dooryard. This commonly seen iris has an interesting history: It is probably the oldest iris in cultivation, thought to have been brought to Europe by Crusaders from the Middle East where it was planted in Moorish cemeteries to honor fallen warriors. Another little iris (probably Iris hexagona) we will have for sale came from an abandoned yard in DeFuniak Springs Florida. It has a delicate blue flower in early spring.

These are just a few of what we will have for sale on March 21. Look for the tall sign "Bulbs, Tubers, Rhizomes". There will be friendly, helpful, knowledgeable people working in that area to help you choose the right plant for your garden.

Birdsong's Old-Timey Plant Sale in March 2021 was canceled.

~ ~ ~

Listed below are all of the "Old Timey Plant" articles. We will be adding to the list so please check back here again!