Please note that an index with links to all of our Old-Timey Plant articles appears at the bottom of this page.

Spring-Flowering Trees
June Bailey White - Plant Sale Chair

One early harbinger of spring glows like a torch in yards all over Tallahassee, the Taiwan cherry tree, often in bloom by mid February. Unfortunately, it's heartbreak time: we cannot love this tree anymore. It is now considered an invasive exotic, and environmentally responsible nurseries won't sell it.

Breaking up is hard to do, but there are a lot of other pretty faces out there, with nicer personalities. You can check them all out at Birdsong's Old-Timey Plant Sale on Saturday March 16, 2019. Here are just a few of the small, charming, spring-blooming trees that can quickly help you get over Taiwan cherry.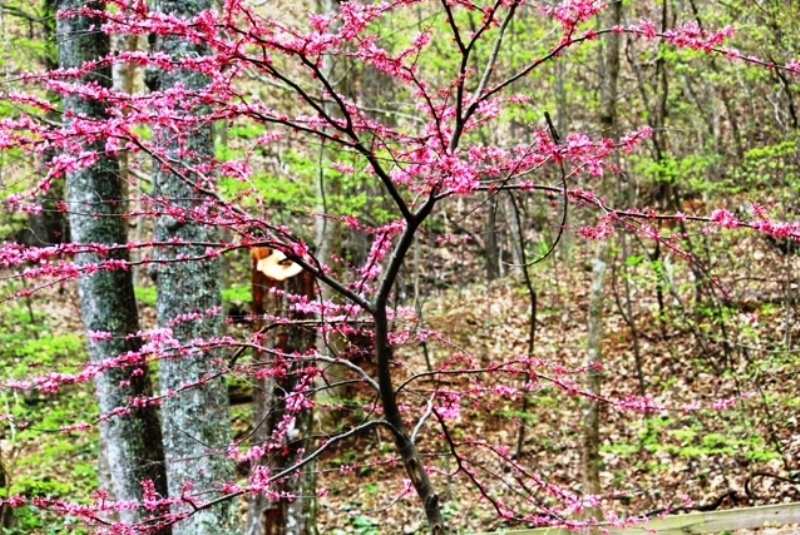 The old native favorite Redbud (Cercis canadensis) blooms as early as the Taiwan cherry and has the same graceful form. Its rose pink flowers come before the leaves, making it a bright show in the bleak late winter landscape. Redbud is a fast grower, and will be a good-sized tree in five years.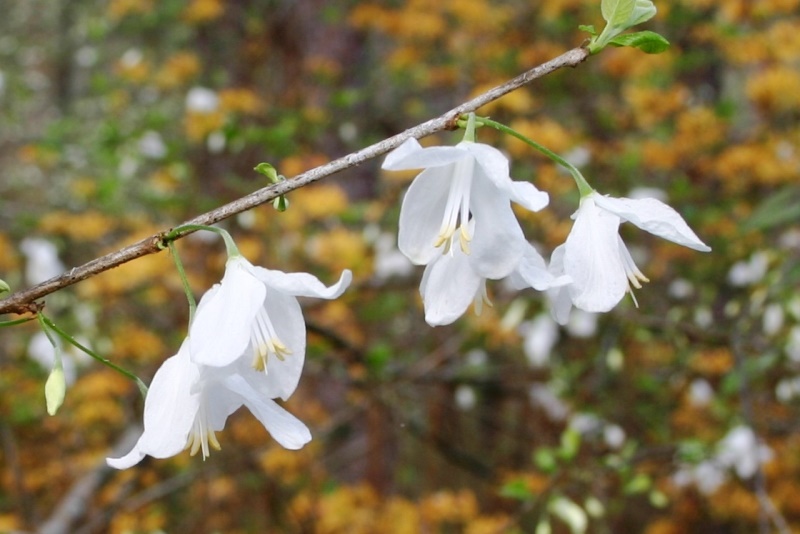 Where the magenta flowered Redbud might be considered by some to be a little on the gaudy side, another small tree, the Silverbell (Halesia diptera) is elegantly graceful. Its delicate silvery bell-shaped flowers dangle from the tips of the branches. It blooms a little later than Redbud in the spring.
Fringe Tree (Chionanthus virginicus) will slowly grow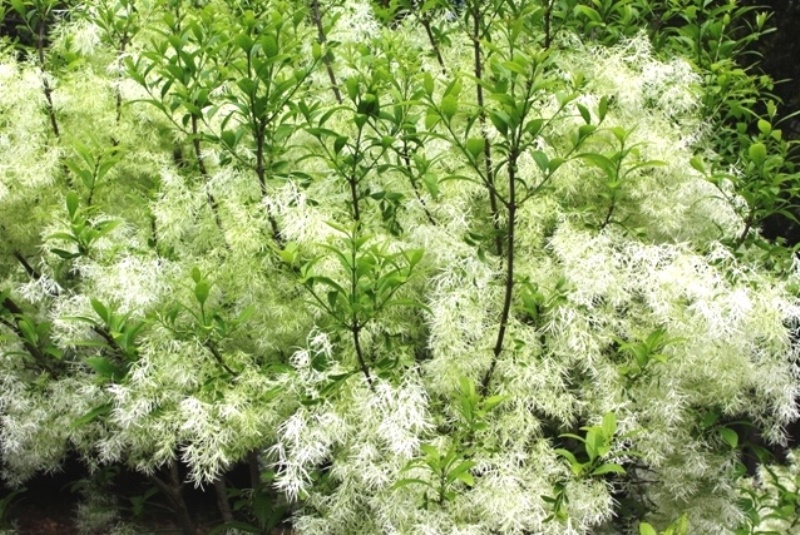 to be a 20-foot tall tree, but even when it is still a bush it will be covered with its pale flower panicles, adding a light element to the varying greens of emerging mid-spring foliage. Fringe Tree's flowers are the color of coleslaw made with a young cabbage and lots of mayonnaise, but the fragrance is like vanilla. When the flowers are finished the Fringe Tree disappears into all the other greens of summer, but it steps out again in the fall with its big yellow leaves.
A very unusual tree with many striking features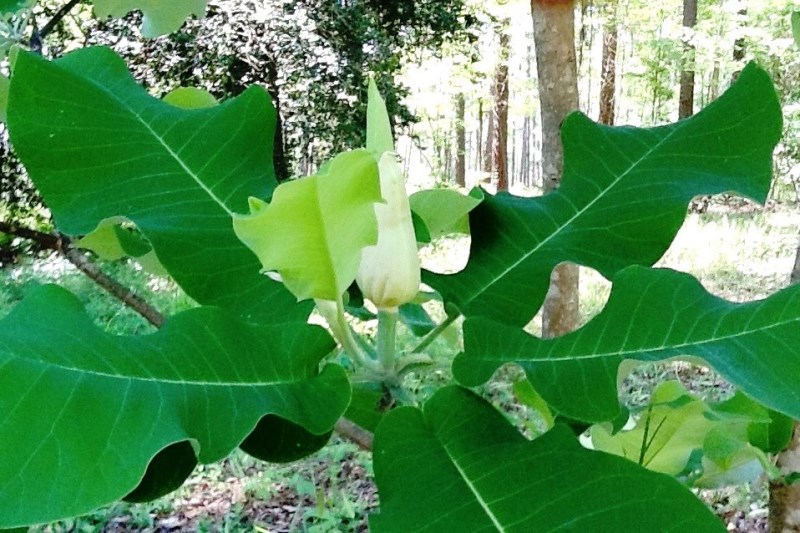 is the Ashe Magnolia (Magnolia ashei). This tree has everything! Its branches swoop out from the trunk and then curve up like antlers, with a silvery pointed bud on every stem, giving it a starkly graceful winter form. In early spring these buds open to huge leaves, then the flowers come. These are the biggest flowers you've ever seen -- one foot across, and very fragrant. They cover the tree in mid spring. Ashe Magnolia is rare in nature, and is endemic only to the Florida panhandle. But it is easy and fast to grow. You will be rewarded early by the spectacular flowers as the tree begins to bloom at a young age.
The handsome bright red candelabra-like blooms of the Red Buckeye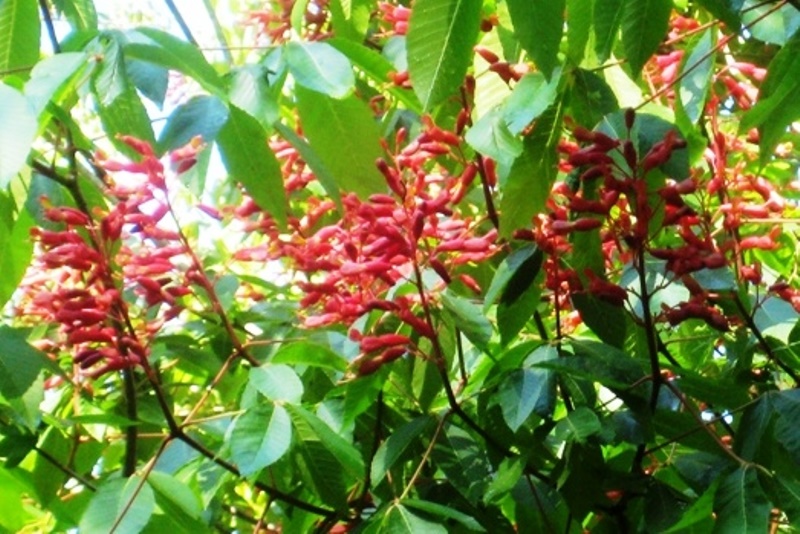 (Aesculus pavia) emerge just in time in spring to give a nectar meal to the returning hummingbirds. Its rich green, deeply veined palmate leaves give it a robust summer shape and in the fall the interesting shiny brown seeds split out of their furry cover like a deer's antlers in velvet. Even in the dead of winter the Red Buckeye can cheer you up with its big fat leaf buds at each branch tip, full of the promise of spring.

All these spring-flowering trees are not only beautiful to look at; they enrich their environment by providing food for the native creatures they share it with. Unlike that cold-as-a-statue Taiwan cherry, these are generous, giving trees. Think of a beautiful woman who can also shuck oysters, sail a boat, run a small business, and teach a child to read. Plant one of these trees in your yard and everyone will be happy.

These trees are all listed in the catalog of "Good Doers" in Gil Nelson's book Best Native Plants for Southern Gardens. They are easy to grow and sure to please.

Birdsong's Old-Timey Plant Sale is March 21, 2020. Pictured above: Redbud, Silverbell, Fringe, Ashe Magnolia, and Red Buckeye Trees.

~ ~ ~

Listed below are all of the "Old Timey Plant" articles. We will be adding to the list so please check back here again!