Please note that an index with links to all of our Old-Timey Plant articles appears at the bottom of this page.

Ferns
June Bailey White - Plant Sale Chair

Are you seeking shade in these last hot weeks of summer? Maybe you are noticing some bare spots in your yard where a patch of shade-loving ferns would thrive.

Ferns have not been the best sellers at our Birdsong plant sales. Maybe people are scared of ferns because they see so much of that dreadfully invasive Florida sword fern that is taking over waste places all over Tallahassee.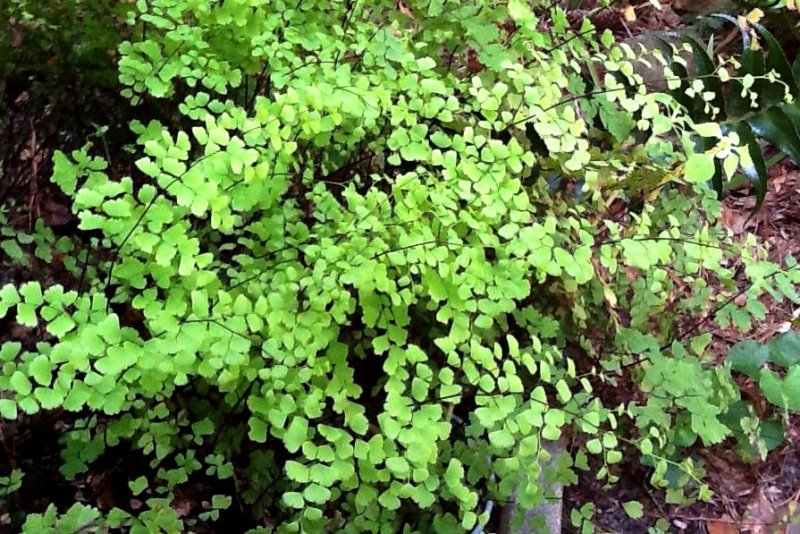 But the ferns at the Birdsong sale are well behaved. Some will form a nice clump, but they will not run. Here are a few good ferns we'll have for sale in March of 2016.
The beloved southern maidenhair fern (left), Adiantum capillus, is most beautiful in its natural state, growing in outcroppings of rock along the banks of our spring-fed rivers. But it will grow equally well in a pot or in the ground in your yard. It will survive the winter outside if it's in a protected place.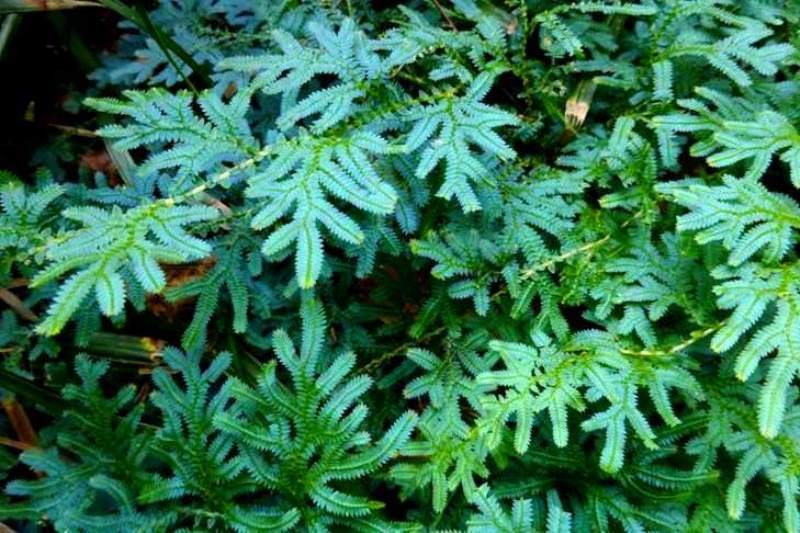 Peacock fern (right), Selaginella uncinata, is not a true fern, but a club moss. This is one of the most gorgeous plants you'll ever see. Its feathery fronds are almost iridescent. It will turn brown in the winter and go dormant almost like resurrection fern, but it comes back to life in the spring. Our plant donor grows peacock fern in her shaded woodland garden, and one of her joys of spring is to brush aside the fallen leaves and see the glowing patch of peacock fern shining forth. It will spread, but it has very shallow roots and is easy to control.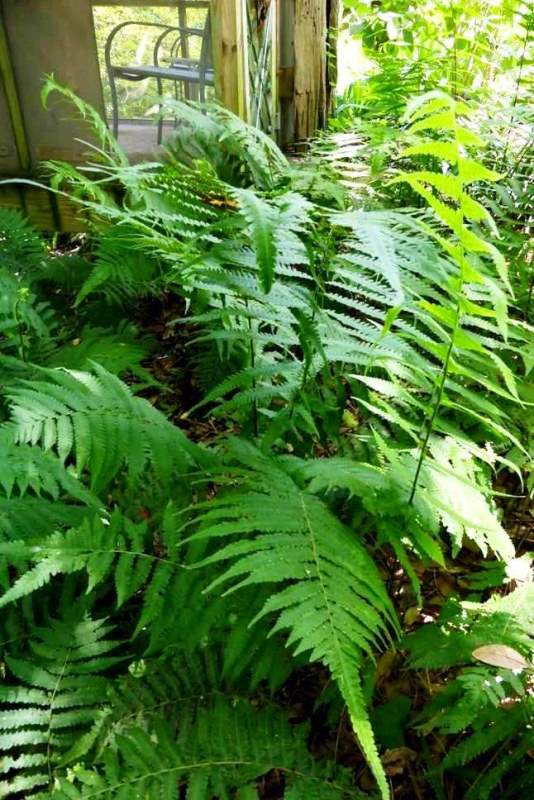 Southern wood fern (left), Dryopteris ludoviciana, has a special place in the hearts of old Birdsong Nature Center people. When Birdsong founders Betty and Ed Komarek first came to South Georgia in the 1930's it was a time of church weddings, with the big white dress and gifts on display. But Betty and Ed wanted to be married in the woods, standing up to their knees in a patch of evergreen fern. Everyone who attended that wedding talked about it for ever after. It was a winter day and pouring rain. Though the bride and groom and all the wedding guests were drenched to the skin and shivering cold, the sight of the shiny green southern wood fern in the dark woods was so beautiful no one ever forgot it. Our plant donor got some of that very fern and has it growing to this day in her woodland garden in Thomasville.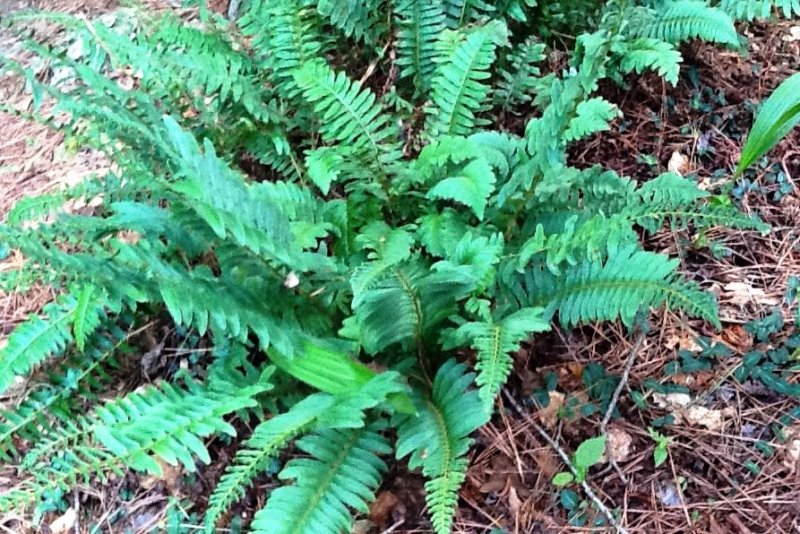 Christmas fern (right), Polystichum acrostichoides, is another native evergreen fern. It will form a nice clump and it will be green at Christmas. If you have a rock or brick wall you might want a Cliffbreak fern. Birdsong's donor rescued one plant from a crumbling wall at Savannah's harbor years ago and now it grows in gaps in the stone wall at the side of her house.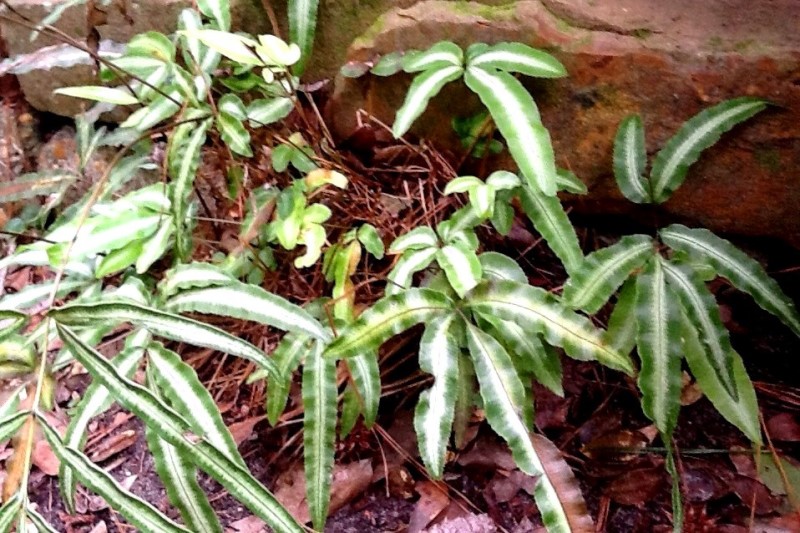 Another fern that grows best beside a rock or brick wall is variegated fern (left), Pteris alboliniata. The original of the plants we'll sell at Birdsong grew at the brick foundation of the house of old Dr. Carr in Thomasville in the 1940's.




These are just a few of the prized, rare, or unusual ferns we'll have. There will also be plenty of the more common landscape ferns at the sale -- holly fern, bead fern, leatherleaf fern, and netted chain fern.

Birdsong's Old-Timey Plant Sale is March 21, 2020.

~ ~ ~

Listed below are all of the "Old Timey Plant" articles. We will be adding to the list so please check back here again!